Welcome aboard! Sister Celluloid and I are hosting an event that celebrates gateway films, movies that help people appreciate classic film. So sit back and enjoy a happy and fun-filled blogathon celebrating the best of the best.
Janet and I will be updating our event pages as the festivities go along. Check back often!
(If you don't see a link to your post, let one of us know ASAP so we can be sure to add you.)
Sister Celluloid tells us why it's always The More the Merrier.
I discuss the power of the original superhero, Judex.
Old Hollywood Films celebrates Cary Grant and Rosalind Russell in His Girl Friday.
LA Explorer turns a spotlight on The Lady Eve.
The Basement Tan celebrates The Best Years of Our Lives.
Now Voyaging has all the details of The Palm Beach Story.
Caftan Woman explains why we should be happy about Twelve Angry Men.
Cinematic Scribblings takes us on the Elevator to the Gallows.
Aperture Reviews shares thoughts on The Americanization of Emily.
Christina Wehner takes us deep into The Horror of Dracula.
Defiant Success sings the praises of Singin' in the Rain.
Speakeasy goes crazy for Gun Crazy.
Big V Riot Squad shows us The Great K & A Train Robbery.
Cinema Gadfly opens Pandora's Box.
A Shroud of Thoughts shows us about Bringing Up Baby.
The Flapper Dame is on the trail of The Thin Man.
1001 Films in 1001 Days digs for The Silver Lode.
Critica Retro goes on a Roman Holiday.
Welcome to My Magick Theatre puts Safety Last.
Silver Screenings takes us on a tour of The Big Country.
Special Purpose Movie Blog sings the praises of Casablanca.
Jesgear's Blog finds The Hidden Fortress.
The Wonderful World of Cinema discusses Modern Times.
Shadows & Satin explains why it's Too Late for Tears.
Drew's Movie Reviews tells us why Some Like It Hot.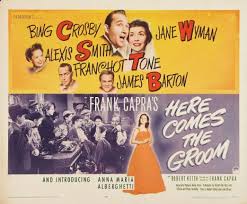 Play off the Page sings the praises of Here Comes the Groom.
In the Good Old Days of Classic Hollywood covers The Strange Love of Martha Ivers.
Cary Grant Won't Eat You deals us an Ace in the Hole.
The Old Shelter takes us to the Underworld.
Moon in Gemini studies The Razor's Edge.
The Love Pirate is ready for High Noon.
Le Mot du Cinephiliaque takes flight on The Wings of Eagles.
Silent-ology celebrates The Scarecrow.
Cinema Cities takes a look out the Rear Window.
Mildred's Fatburgers examines M.
wolffian classics movie digest is off to see The Wizard of Oz.
BNoir Detour can't forget Gilda.
***
Lots more to come! Check back soon.